Hello, hello everyone and welcome back to the OTO blog, where we are sharing all-things Old Towne Orange! It has been an absolutely gorgeous week in OTO and we are grateful to be enjoying the 68-degree weather while our friends on the East Coast are bearing the extreme freezing cold! We are sending love to those being affected by the cold wave and feeling more grateful than ever to be in Orange County, California.
The first blog I wrote as an Intern for I Heart Old Towne Orange was The Old Towne Orange Avocado Toast Guide! Does anyone remember this good old blog? I got to review and taste the avo toasts at Provisions, The Aussie Bean, Watson's Soda Fountain and Cafe, and even create my own little avo toast at Starbucks! Remember?
Since then, new establishments have come to the Plaza, which means more avo toasts have joined us in Old Towne Orange. This week, I took my (admittedly embarrassing) fourth trip down to Urth Caffe to try their avocado toast and give it my full review! But before we get into it, visit my original Avocado Toast Blog to get caught up on all of the places to grab this Southern Californian delicacy.
From the menu, it describes the toast as "Our sprouted ancient grain bread toasted and topped with ripe Hass avocados, almond cheese, micro cilantro, and olive oil." When I ordered it, my awesome cashier gave me 4 options for bread, evening including a gluten-free option! Hear that, gluten-free readers? Urth is contributing to our special diets here in Old Towne Orange! You can also add heirloom tomatoes, poached egg, and pancetta for $2.00 extra each. And for my vegan or dairy-free friends, the almond cheese is entirely dairy-free and vegan! It is the perfect addition to the Avocado Toast Guide! Just look at how mouthwatering this is: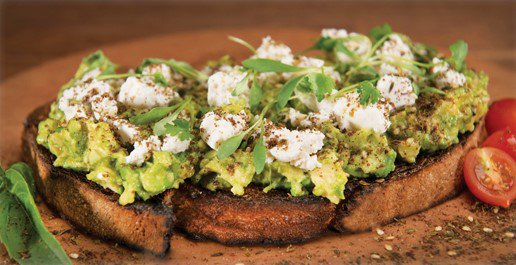 So yummy! And now that brings me to my next exciting announcement: we have an update to the OTO Vegan Menu! This summer, I created the ultimate vegan menu for Old Towne Orange. I called all of the restaurants in towne and found every vegan item they had on their menu just for you – our readers! Whether you are trying to eat more green in the new year or have been a long-term vegan, you'll now know where to take your friends in OTO. It can be hard to be the one vegan in the friend group, and now you'll know exactly what to order! Click here or fill out the form just below to sign up to get the vegan menu and you'll be on your way to green eating in OTO!
Thank you, everyone, so much for reading! Be sure to give us a like on Facebook and a follow on Instagram for all of the updates on all things Old Towne Orange! Have a great week and we'll see you around towne!