DeeLux in Orange opened in 2018 and is one of two DeeLux locations where you can not only purchase thrifted and new items, but also sell your items for cash or credit.
What to know about selling your clothes at DeeLux in Old Towne Orange
You have two different options when selling your clothes at DeeLux.
Option 1: You can make a 30-minute appointment by calling them at (714)202-5483. The buyer at DeeLux will sort through your clothing and/or shoes. Depending on what the items are, they'll make you an offer for either store credit (50% of what the item is worth) or cash (30% of what the item is worth).
Option 2: You can walk into DeeLux with your items. They'll put them in a clear box and label with your name and phone number. You'll give them your ID and they'll give you a slip with the date that you need to return to pick up your items. When you return, you'll be given an option of store credit or cash for your items. They'll go through each item, share the offer price, and give you a reason for any items that they are not taking.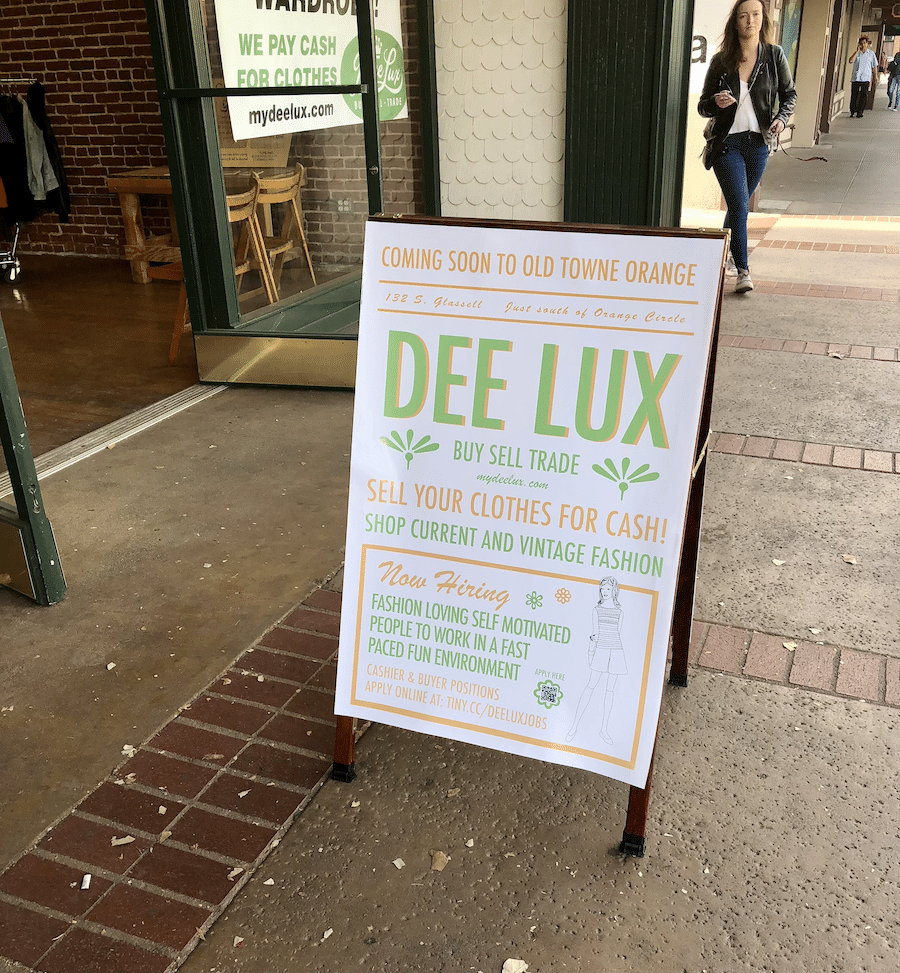 What clothing, shoes or handbags to sell at DeeLux
Based on DeeLux, these are the items that they are looking for:
Clean – Must be freshly laundered and odor-free
In great condition – No holes, stains, missing buttons, or broken zippers
In season – We're currently buying for Summer
Up to date – Modern styles and brands that are currently trending
Vintage – We buy select vintage that is casual and in good condition
Designer – We take selective designer items
Accessories – We take selective accessories such as purses, shoes, and designer sunglasses
They do not buy:
Children's clothes
Swimwear
Sleepwear
Business attire
Formal wear or wedding dresses
Rugs or housewares
Undergarments
We sold a few items to DeeLux and had such a great experience! We also found that some prices are negotiable when it comes to selling your clothing. It helps if you have background on the item you're trying to sell, and how much you think it's worth.
Let us know if you have any tips for selling your clothing!
Visit DeeLux in Old Towne Orange at 132 South Glassell St, Orange, CA 92866.
Last Updated on May 24, 2023 by Pattie Cordova