Hello, hello Old Towne Orangers! Welcome back to week TWO of trying new things in Old Towne Orange. Last week, I challenged you (the I Heart Old Towne Orange readers) to try something new in Old Towne! Who completed my challenge? There are so many new things to be explored in our town, you're sure to find a new favorite. With the hot summer upon us, I thought this would be a great week for another round of staff picks! Our last staff pick was all about coffee, so read the Get Community team's favorite coffee drinks in Old Towne Orange HERE! This week, we are sharing all drinks – whether that be tea, coffee, cocktails, and more!
Let's get started!
Marshall – Hey guys! So a few months ago, a friend told me I had to try the dirty chai latte from The Aussie Bean. I tried going twice since then for a late afternoon caffeine kick but forgot that they close at 4PM and kept missing them. So this week, I FINALLY got to try the adored dirty chai latte. If you don't know, a dirty chai is a normal chai with a shot (or two – depending on how your day is going) of espresso! I got mine with almond milk to make it completely dairy-free and vegan and it was SO YUMMY. It tastes less thick and syrupy than when I get it at Starbucks and the cinnamon they sprinkled on top was the perfect touch. I think I will make it my mission to try every dirty chai latte in Old Towne Orange! Try it today!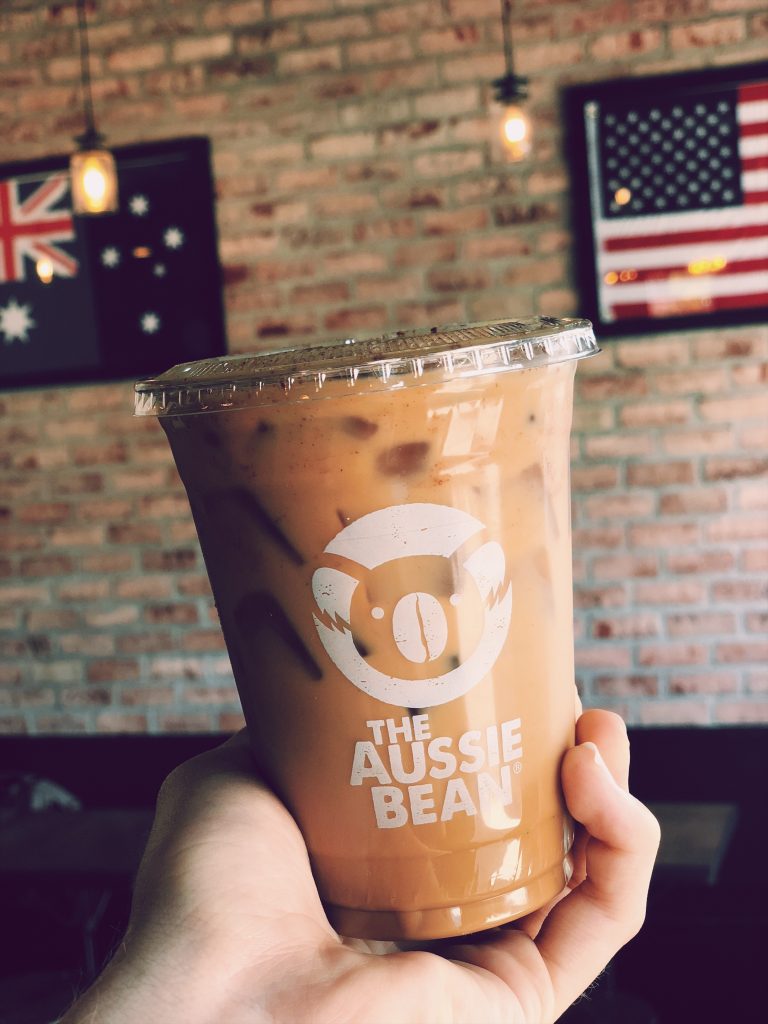 Paulina – I am currently obsessed with the Hibiscus Rose Water from Contra Coffee and Tea! I love how refreshing and yummy this tea is! It's not too sweet and has a great flavor. The color is so fun and it's perfect for summer!
Andrea – When I need an afternoon pick-me-up and I've maxed out on my daily coffee allowance, iced tea is my go to. It's super refreshing and helps me get my caffeine fix to push through the afternoon.
Here are my fave places to pick up a delicious iced tea:
Rutabagorz

: Passion Iced Tea

Contra Coffee: Their flavors rotate and they always have a great selection. I usually ask for the baristas recommendation.

Starbucks: I know, super basic, but their white peach citrus iced tea is off the hook.
Kelly – Ok, mine's the Dirty Old Classic at Citrus City Grille. It's simple, dirty, and classic! What's not to love? This martini is a great start to every happy hour and they'll even stuff blue cheese olives for you. Yum!!
Lindsay – This heatwave had me craving something cold and refreshing! I tried the Strawberry-Lavender Lemonade from Pandor Artisan Boulangerie & Café and it totally did the trick. The classic strawberry taste is sweet and satisfying, and the subtle hint of lavender brings it all together for a lovely summer pick-me-up. If you need to cool off, this pink drink hits the spot!
Sara – This mint chocolate chip shake is from Watson's. I love minty ice cream!
Try a new drink in Old Towne Orange this week! And make sure to read our other two featured blog posts this week on our blog page.
Have a great weekend and we will see you around towne!