Happy Thursday everyone! We love every day in Old Towne Orange, but Thursdays always have the best electric energy. Not only is it almost the weekend – but we post a new blog and send out our newsletter every week (if you aren't signed up for our weekly email news blast, sign up HERE). With this new series of summer blog posts, we couldn't miss the opportunity to talk about all of the summertime munchies in OTO! We love talking about food on the blog because – did you know? – Old Towne Orange alone has over 50 food establishments to try!? 50! We have tried to visit as many as we can – and have blogged about our experiences at Rutabegorz, Mead's Green Door Cafe, Byblos Cafe, Pandor Bakery, and so many more! This week, we are bringing to you our health and fitness-inspired summer eats!
Two weeks ago, we covered all the places to get your fitness goals accomplished in Old Towne Orange! Last week, we gave some advice – something we have not truly done before. Visit the blog to read our goal setting tips and tricks! And this week's blog is all about healthy eats. Sharing a healthy meal with a friend is a great way to catch up, discuss summer plans, and start your summer goals! Let's jump right in!
Mead's Green Door Cafe
We love Mead's and have talked about them in many blogs! Click the link above to read our full Mead's Green Door Cafe experience and visit them this weekend. You truly won't regret it. Whether you are a vegan, vegetarian, or just plain healthy-eater, Mead's does not disappoint.
Growl Juice Pub
Growl is the best! Growl was one of the first places I visited in Old Towne Orange and they do not disappoint. They offer an amazing selection of juices, smoothies, and bowls. I love topping off my bowl with granola, coconut, and honey. This makes the ideal summertime munchie for a hot day in Old Towne Orange!
Rutabegorz
Rutabegorz has a super healthy menu – and all of the items feel home-cooked making it the best place to stay on top of your diet restrictions. From soups, bowls, salads, wraps, and an amazing breakfast selection, you will find a healthy meal at Rutabegorz any day! I don't know about you, but sitting inside or on the patio at Rutas feels like sharing a meal with friends and family in the comfort of your own home. Bringing someone from out of town to Rutas would be the loveliest welcome to Old Towne Orange this summer.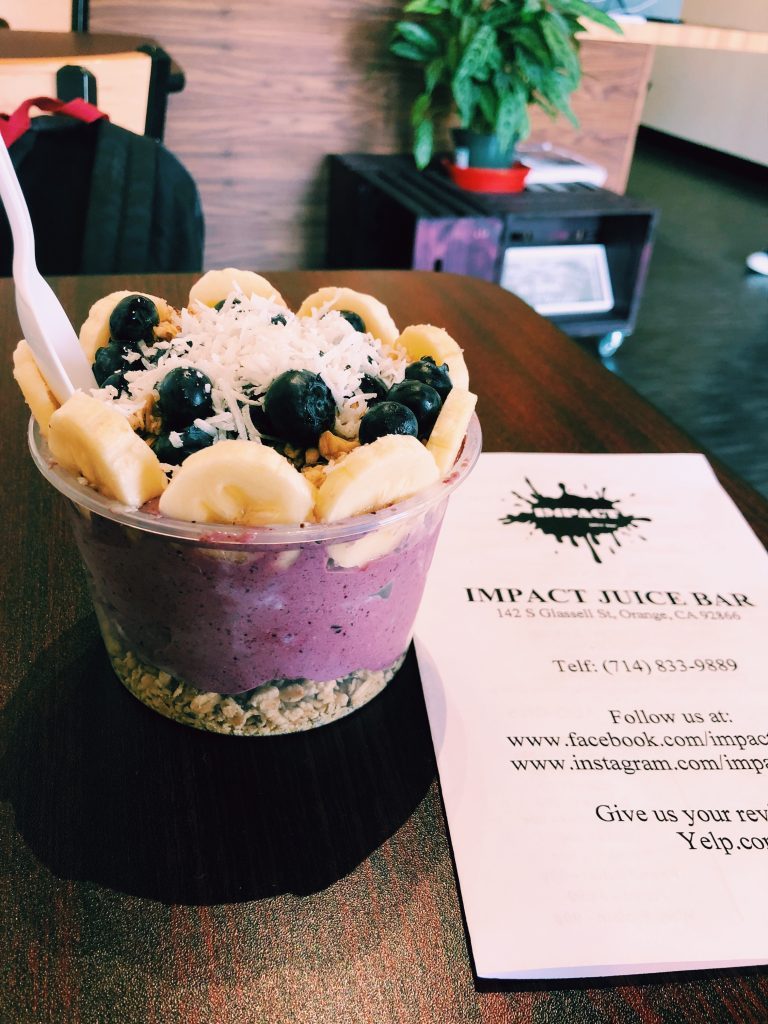 Impact Juice Bar
Impact Juice Bar is one of our new favorites in Old Towne Orange. If you are looking for a juice, smoothie, or bowl for after your workout this summer, Impact is your place! The last time we stopped by, we got their traditional acai bowl and it was very delicious! In fact, I think I might go back today! Visit Impact for a healthy and fruity munchie this summer in Old Towne Orange!
Orange Home Grown Farmers and Artisans Market
Of course, we could not leave out Orange Home Grown! Not only is this the healthiest option when finding the freshest produce, but Orange Home Grown supports the continued use of Orange County land for the benefit of food and agriculture systems and allows visitors to become a part of the sustainable food system they are trying to create. Visit Orange Home Grown on Saturdays from 9 AM-1 PM to celebrate Southern California's rich agricultural heritage.
Wow! Now I am hungry everyone! I think I am off to grab a smoothie from Growl or my favorite salad from Ruta's. No matter what your food and diet goals are for this summer, these establishments will satisfy your craving this summer. We hope to see you around as we are trying all of the amazing flavors that Old Towne Orange has to offer.
Remember to check us out on Instagram and Facebook! Have a great weekend everyone and we will see you in Old Towne!