O Sea is reeling in all the seafood lovers at its new location at 109 S. Glassell St.
Having just opened on Tuesday, June 1, 2021, the restaurant has already made a splash in the local dining scene.
Over Memorial Day weekend, the establishment hosted a private grand opening and your favorite Old Towne Orange guide was in attendance to give you some insight on space and menu offerings. Let's dive in!
Inside O Sea
Like a sunshiny day out on the water, O Sea nails a happy-go-lucky ambiance with its beaming skylight, charming exposed brick wall, and subtle yet colorful hues throughout the space.
It's the perfect setting for the restaurant's blended fine/casual dining experience. 
If you're wondering how they're able to pull off such opposing ideals—it's simple! Patrons grab a menu and wait in line to reach the counter.
There, they'll order their dishes, take a number, and find their table.
Non-alcoholic beverages are self-served at the back of the restaurant.
There is no wait staff, only food runners, who bring out your meal and check to see if you need anything.
The process feels laid-back and easy-going, but the environment is definitely sophisticated. It's the ideal setting for a date night, dinner with the kids, or simply hanging out with good company.
Drinks
at O Sea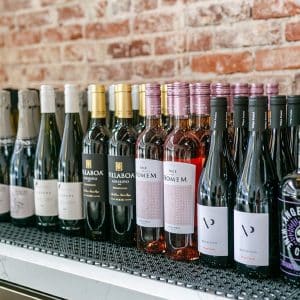 White, red, rosé, beer, lemonade, cold brew, and milk tea—whatever you're having, they are serving! Here's what we tried:
Pool Wine

Rosado Blend 'Vale Do Homem', Quintas Do Homem. Vinho Verde, Portugal '18.

This rosé is delightful. Refreshing with fruity notes, it is appropriately named.

Pineapple & Thai Basil Agua Fresca

Do yourself a favor and order

this

when you go. Subtly sweet, but mostly thirst-quenching, this agua fresca is the perfect addition to your meal.

Thai (Oat) Milk Tea

Collectively, we've been to hundreds of boba places and sipped many Thai Teas. Upon trying this one, we agreed it is the best Thai Tea we've ever had. It is milky and flavorful without tasting artificial or heavy. The recipe has been perfected.
What to order at O Sea
With so many restaurants around Old Towne Orange, it's hard to believe that our neighborhood needs anything else to make it complete.
Then, O Sea opened offering a unique and delicious menu, and we instantly fell in love.
Everything we tried was phenomenal. Here's our insight:
Daily Fresh Ceviche

Ah. Maze. Ing. You have most likely never had ceviche like this before. Made with coconut leche de tigre and habanero oil, the ceviche was sweet, citrusy, and flavorful in all the best ways.

Grilled Avocado with Pickled Onions

More than just an avocado, this appetizer comes with spicy thai vinaigrette crema, pepitas and crispy rustic bread. Offering spice, tang, and crunch, this starter is a tasty way to kick off your lunch or dinner.

Grilled Fish Tacos

Ordered with salmon and corn tortillas, these tacos were

it

. They came topped with pico de gallo, pickled onions, cabbage, and spicy mayo and were beyond incredible.

Udon Noodle Bowl

These Japanese udon noodles are a must-try! Made with bok choy, mushroom dashi, togarashi, and topped with salmon, this dish was utterly satisfying!

O SEA Burrito

Complete with kombu rice, black beans, pico de gallo, cabbage, spicy mayo, and avocado salsa, this dish is simply

yum.

It has everything you would want in a burrito, but it somehow manages to give you more in flavor and texture with every bite.
If you're looking for fresh seafood beyond the usual lobster roll and crab cake, sail on down to O Sea.
Anchored in ethos to provide a sustainable eating experience, this restaurant offers a fresh take on maritime dining. See for yourself what delectable eats await you at O Sea.
Last Updated on May 21, 2023 by Pattie Cordova