He tells the best jokes; he makes a mean steak; and he's always keeping an eye on the thermostat—he's dear ol' dad. Give dad a Father's Day that will make him jump out of his recliner for joy. If you're in a crunch for last-minute gifts and plans, we've got just what you're looking for. Continue on for some great ideas on how to celebrate your favorite guy, Old Towne Orange style!
Meat Your Maker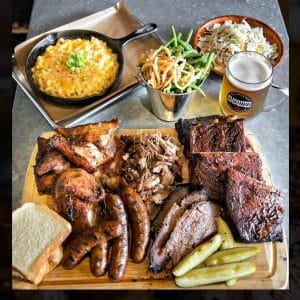 We know that no one smokes a brisket like Dad, but give him a break from the grill this Sunday by taking him to Smoqued California BBQ. Spoil him with his pick of ribs, tri-tip, sausages, and more for a happy dad who is sure to be asleep in front of the television by 7pm. Another great pick for the food-loving dad is Haven Craft Kitchen + Bar. With a great menu selection from burgers to pasta, this place is "haven" for the foodie father. Wherever you decide to wine and dine dad this Father's Day, you can't go wrong with eating local!
Three Beers For Dad!
For the dad who considers himself a craft beer connoisseur, take him to The Wall. Their impressive menu of beers and ciders are worth the trip alone. He'll love getting to browse through a selection of curated brews from all over the world. Their patio is right beside the roundabout for optimal people and car watching, as well as spending time with their favorite child—the family dog.
Another great spot where dad can enjoy local-made beers is Chapman Crafted Beer. This neighborhood taproom has it all—delicious IPAs, lagers, pilsners, and seltzers brewed in-house. Plus, there's plenty of parking. It's every dad's dream! 
Caffeinate the King
Need the perfect Father's Day gift STAT? We've got you covered. For a limited time only, give dad the gift of caffeine. This brilliant gift set has everything Dad needs for the perfect wake-up call. It includes a bag of Dulcis Micro Roast coffee, your choice of one of our favorite Old Towne Orange mugs, and our unique card made just for your favorite homeslice. The best part? It comes all wrapped up and ready to go so all you have to do is sign the card—easy peasy! Head over to our shop to choose shipping, local delivery or pick-up. 
For a cherry on top of what is anticipated to be an exciting Father's Day, make sure you laugh when he says "Hi Hungry, I'm Dad!," let him watch the game uninterrupted and tell him how you're all up-to-date with your car's regular maintenance. Happy Father's Day!