Do you have that old box of your child's clothes sitting in the attic? Are you constantly having to make more room in your home for the influx of more classwork, more art projects, more certificates, and more CLUTTER? Well enough with more, more, more and welcome to your life… Amanda Clark!
Amanda Clark is the owner of Ever So Organized®, a full-service home organizing company based out of Orange County, California. She specializes in helping busy families declutter and create beautiful, functional, and organized spaces as well as implementing systems that help them better own their time and spaces. Amanda lives with her husband and 3 kids in a mid-century modern Eichler home in Orange, California, where she says she enjoys mixing modern design with the classic Eichler feel. Get a peek inside her Eicher home below: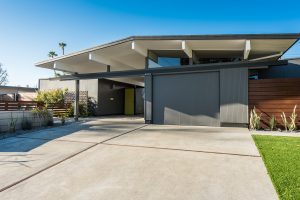 Photos courtesy of Amanda Clark: Home photography by Jeanine Hill OrangeReview.com.
We had the honor of welcoming Amanda on A Circle in a Square to peel back the layers of her organized and memory-saving mindset. By the way, if you aren't subscribed to the podcast yet, what are ya doing? Click here!
Amanda brought her quick-thinking and love for life to the show, but also brought our readers (and listeners) an abundance of tips on how to curate keepsakes for your child without overwhelming them with too many "special" memories from their childhood. She, like all parents, understands how easy it is to want to hold on to every single thing your child brings home, but has truly mastered the skill of savoring memories in the most organized and decluttering way!
Let's hop into the tips!
GATHER EVERYTHING
Start by grabbing a laundry basket, and grab all of the artwork and the papers. Go to every room in the house and gather all of the paperwork and art. Amanda says don't be afraid of the mess getting worse before it gets better. After that, find a space to spread out and start making your piles. Make a pile for each kid and go through all of their papers. Start dividing it in any way that makes sense for you: by year, type of paper, or importance. Once you see the piles, you're able to declutter. 
KNOW YOUR WHY
Stick with the "why." Why do you want to hold on to this? Why is it important? Amanda says keeping everything for your child doesn't make it as special. As you declutter and decide what to throw away, decide what they're going to find most special to open once they are older. Amanda says a best practice is to give it a few years to make the judgment (the sentiment of the items will either start to grow on you, or not). Plus, when your child is older, they will be able to give their opinions on what is important to them and what isn't. 
DECLUTTER
Remember, too much of anything is no longer special. As a parent, you get to start making some of these decisions for them. Don't feel bad! Things are going to have to go into the trash and that is okay! But when you are doing this, remember how nice your decluttered space will be and focus on the most important things that you ARE keeping!
CREATE BOUNDARIES AND LIMITS
Amanda has 3-ring binders for each one of her kids. The 3-ring binders have plastic dividers and can be filled with as much as her kids want, as long as there is room for it. It allows them to decide what is the most valuable, knowing there is a limit to the amount of pages in the portfolio. For 3D art projects, Amanda says take a picture of them with it! You get a snapshot of not only their art project, but what they looked like when they made that art project. Amanda uses Chatbooks and Artkive to preserve these memories, which produce bounded books within which to keep the memory of your child's artwork. It is super easy to create on your phone or computer! Check it out and use promo code EVERSO20 on Artkive for $20 off! Amanda uses a weathertight box to store the things she wants to keep. In the boxes, you can sort the paperwork and art in files and by years, so it stays organized and neat! Amanda also shares that her friend with six kids gives each kid one trunk, and similar to the portfolio, they must choose the most memorable and loved items to put in the trunk. Once the trunk gets passed on to them, they will be happy knowing that they chose all of the most important items to keep!
MAINTAIN
Once or twice a year, go through and declutter these keepsakes again! Don't be afraid to get the older kids involved and sporadically maintain the collection of papers, art, and other special items for the most organized space you can.
Amanda was full of tips – and this is just the tip of the iceberg for her! If you want to listen to the entire episode, subscribe to A Circle in a Square on Spotify and Apple Podcasts! You can also listen below.
Thank you so much to Amanda for being on the podcast, and we encourage you all to visit the Ever So Organized website, visit here to make your own memory box, and check out this downloadable PDF that breaks down the process of organizing your paper keepsakes. 
Thank you so much for coming back to the blog. Share this blog with your friends and of course, fellow parents. We hope everyone is having a good week and staying safe and healthy!