It seems like there are just so many women's clothing boutiques in Old Towne Orange, and sometimes it can be a little overwhelming. But with summer in full swing, we decided to show you some of our favorite summer accessories to glam up any sunny day outfit. After visiting all five clothing stores in The Circle/Plaza, we wanted to share pics of the cute accessories that are 100% on trend right now.
Statement Earrings From Nectar Clothing
Starting off at Nectar Clothing are these fun sets of earrings! Right next to their register, they had two bowls full of uniquely designed earrings. From puka shells to sunset-colored, Nectar Clothing definitely has a pair of earrings to spice up any outfit for any occasion. You can wear them on your next pool day or to pair with a formal dress on your next date night. And the best part? The earrings range from $10 to $13! Such a steal for these designs you don't see every day.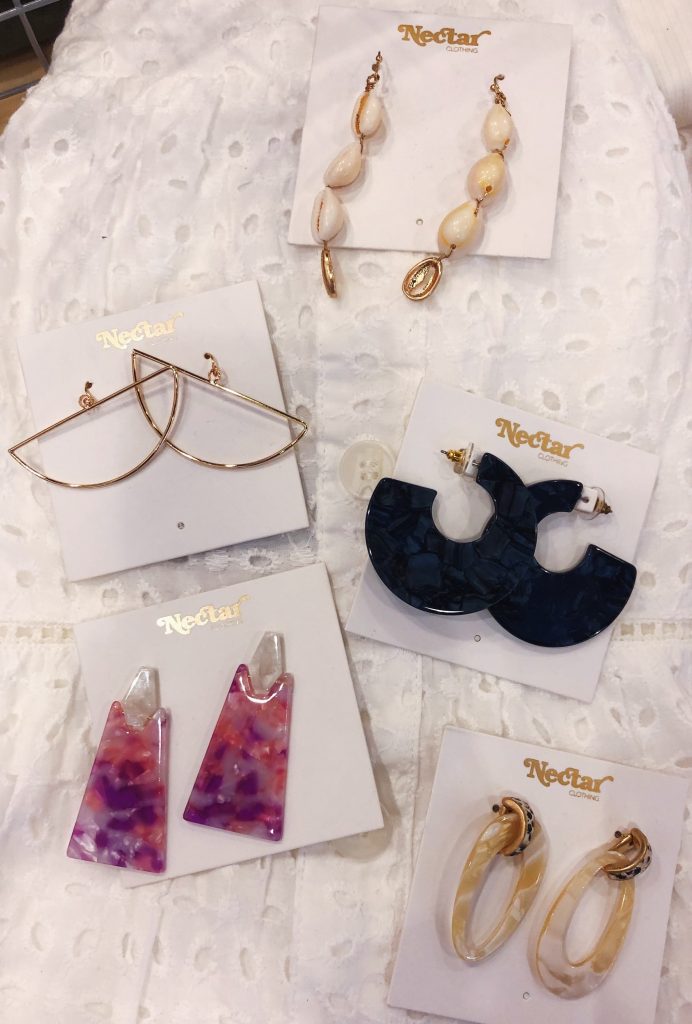 Hats from CocoRose Boutique
As soon as we walked into this charming boutique, there were walls of hats. I could imagine lounging around a beach or a pool in ALL of them so cute! This store truly stocked a wide variety of hats that are sure to keep the sun out of your face this summer. Some of the styles even had adorable sayings to make a bold statement wherever you choose to wear them. The dad hats are $16 while the sun hats range from $25 to $35.
CocoRose is located at 160 N Glassell St, Orange, CA 92866

CocoRose is located at 160 N Glassell St, Orange, CA 92866
Hair Accessories from Laurenly Boutique 
The ladies over at Laurenly definitely know how to keep our hair on trend this summer! With their array of jeweled bobby pins and animal print hair clips, livening up your hair game has never been easier! Laurenly also now sells hair coils which surprisingly don't get tangled when you use them to hold up your ponytails! This was a huge surprise for me! There are additionally a few select styles of hair scarves to add to your ponytails. Not only are all of these hair accessories hot items right now, but they're also a great way to keep those wisps out of your face!
Laurenly Boutique is located at  142 N Glassell St, Orange, CA 92866

Laurenly Boutique is located at  142 N Glassell St, Orange, CA 92866
Temporary Tattoos from Zae's
As soon as you walk into Zae's Boutique there are packs of metallic temporary tattoos with so many different designs. It could be the perfect accent to your concert outfits or the perfect activity to do with your girlfriends or kids at your next summer BBQ.
Fanny Packs from Sunny Days
Fanny packs are back in style (say what!!) but Sunny Days' designs take a new twist on this vintage accessory. Fanny packs are perfect for all your summer adventures. They can hold all your essentials and you don't have to worry about a bag in your hand. The fanny packs from Sunny Days also double as belts! Yes, that's right, the strap of the bag can fit in the belt loops of your pants and it even has holes to adjust in size. These bags are high-end in quality so they do cost a nugget or two, coming in at around $158.