Every day, families around the world connect and bond by the foods they make together, recipes that have been passed down through generations, and the comfort of sitting around a table with loved ones. When the holiday season nears, the food gets even more special and the serving sizes grow even larger. After all, the one true thing that brings together the family each year, celebrates culture, and embraces kitchen experimentation…is food! 
This week, the I Heart team is excited to share a part of their family recipes with you, our readers. Some of the recipes are twisty renditions of the dishes you know and some are culturally significant to our families. Either way, you are sure to discover a new recipe to try out this holiday season. Enjoy!
Bacon Green Bean Bundles
Photo Credit: dinneratthezoo.com
Kelly: At our house during the holidays, we go traditional when it comes to the big bird. It's everything else that makes our table shine. We're not that family that makes the same recipes every year, and we especially like to play when it comes to veggies. Last year, I made these Bacon Green Bean Bundles and they were such a smash that I've made them on request a couple of times since and people still bring them up to this day! In fact, they've already been requested for this year's Thanksgiving table. 
Pro tip: Do a partial bake on the bacon before wrapping otherwise your green beans might get overcooked. Bon appetit!
(Fancy) Pea Casserole
Photo credit: Chef in Training
Lindsay: Pea Casserole? Like, ew…
It's okay, I know you were thinking it. But you guys have truly not lived until you've experienced this cheesy, bread-crumby deliciousness. My mom makes it every year and everyone always fights for the last little pea – except for my brother who won't eat anything green (more for me!). My mom's recipe is perfect, but if you want to spice things up, I found this slightly ~fancier~ version from Chef in Training that looks fabulous (if you feel like going for something a little heartier). She adds sour cream into the mix AND bacon bits! 
Truffle Mac and Cheese 
Photo Credit: thefeedfeedfeed.com 
Shauna: That's right people, you're looking at an actual recipe from an actual recipe book. This mac and cheese has been at my family parties for as long as I can remember. The bread crumb layer on top presents a texture like no other and it blends the perfect combo of yummy cheeses.
Pro tip: my mom's secret ingredient is adding a bit of smoked paprika, spice blend, and just 1 teaspoon of black truffle oil when the base is all mixed up (don't tell her I told you).
The Dutch Baby
Photo Credit: The NY Times
Alex: I grew up with a single mom who worked multiple jobs, so our holiday tradition involved takeout from our favorite Persian restaurant and watching a movie together. Now that I'm older and a little more experienced in the kitchen, I've been trying out recipes so I can start my own holiday tradition. My cousin introduced me to her signature holiday breakfast, the Dutch Baby and I'm OBSESSED! It's sweet, filling, and the perfect treat to enjoy on a cold morning. I highly recommend enjoying it with whipped cream and fresh berries!  
Bean & Potato Tamales (V)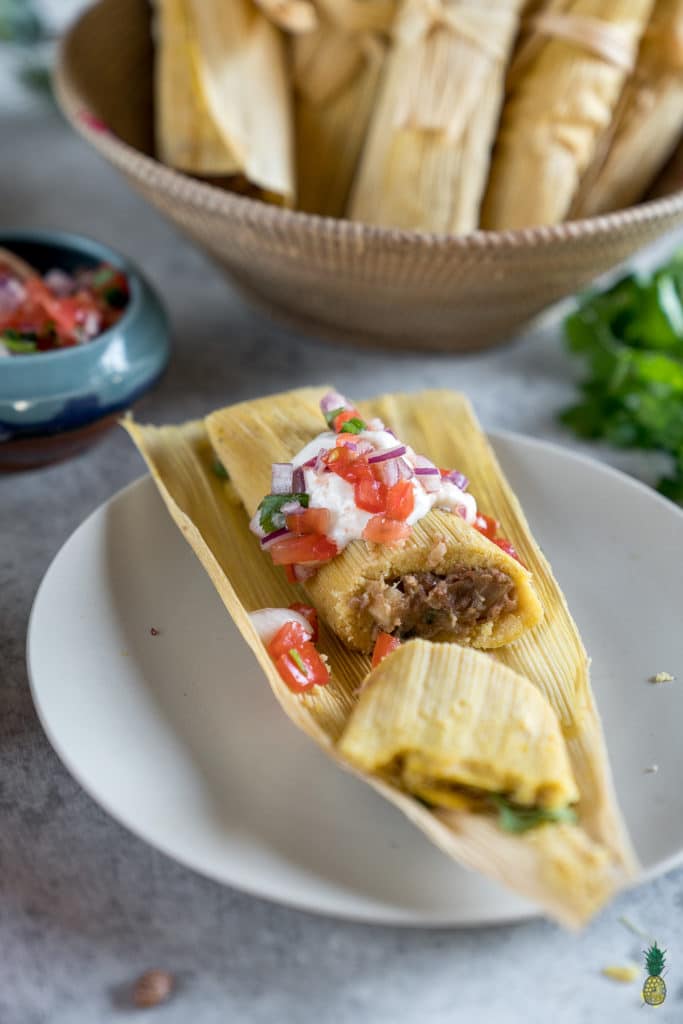 Photo Cred: Sweet Simple Vegan
Marshall: In my family, the holidays mean even more Mexican food than usual! In Mexico, tamales are a celebratory food eaten at weddings, baptisms, Dia de Los Muertos, Christmas Eve, and more. Tamales can be a two-day process, and usually involve the entire family coming together to make them, which is why the food has been associated with family bonding and community in the Mexican culture. In my family, we always have tamales around the house – some that we even freeze so we can have them for months (okay, weeks). For my tamales, we use vegan butter, corn, and lots of veggies to make them vegan, sweet, and oh, so delicious. This copycat recipe uses a pinto bean and potato filling for a hearty vegan tamale that will satisfy the entire family. Check it out!
Smoked Tri-Tip
Photo Credit: Hey Grill Hey
Kylie: My family doesn't really *do* holidays. Our family is way too big to coordinate a gathering every year (I have eight 2nd cousins), and everyone always opted to work on holiday days. So, we just celebrate either the week before or after! We're big foodies so we don't tend to cook the same thing every year or stick to traditional holiday dishes. We usually just start cooking random things all weekend and just snack on them throughout the day while playing Scrabble and Galaga. (I'm not kidding when I say last year my brother made homemade egg rolls…at 2 AM because why not). Last year, though, we made this amazing smoked tri-tip that makes me wish I didn't live in an apartment so I can invest in a smoker. 
We hope that you found some inspiration for a new holiday menu item to try out soon! From bacon-wrapped green beans to that dutch baby pie, we sure are excited to have some new inspiration for our grocery lists. Have a great weekend everyone and we will see you around Towne!