Got friends coming into town? Or just looking for something to pass the time on a Saturday afternoon? We've put together a nice little lunch date for you and your peeps. And if you're like me, you might even hop on your bikes, get the blood pumping and enjoy a little sunshine on the way into Old Towne Orange.
Of course, the number one place on our list is the fountain in the Orange Plaza, or the Circle, whatever you choose to call it. The plaza is the heart of Old Towne Orange and a gathering space for everyone. It's surrounded by a massive orange tree, beautiful hedges and flowers, and whenever we post a picture of it on Instagram, the crowds go wild. It's a serene and relaxing spot in a busy city center. If you really want to impress friends you can remind them that the plaza has been used in various movies and TV shows like Parks and Recreation and American Horror Story – you can literally point out scenes as you're sitting in the park.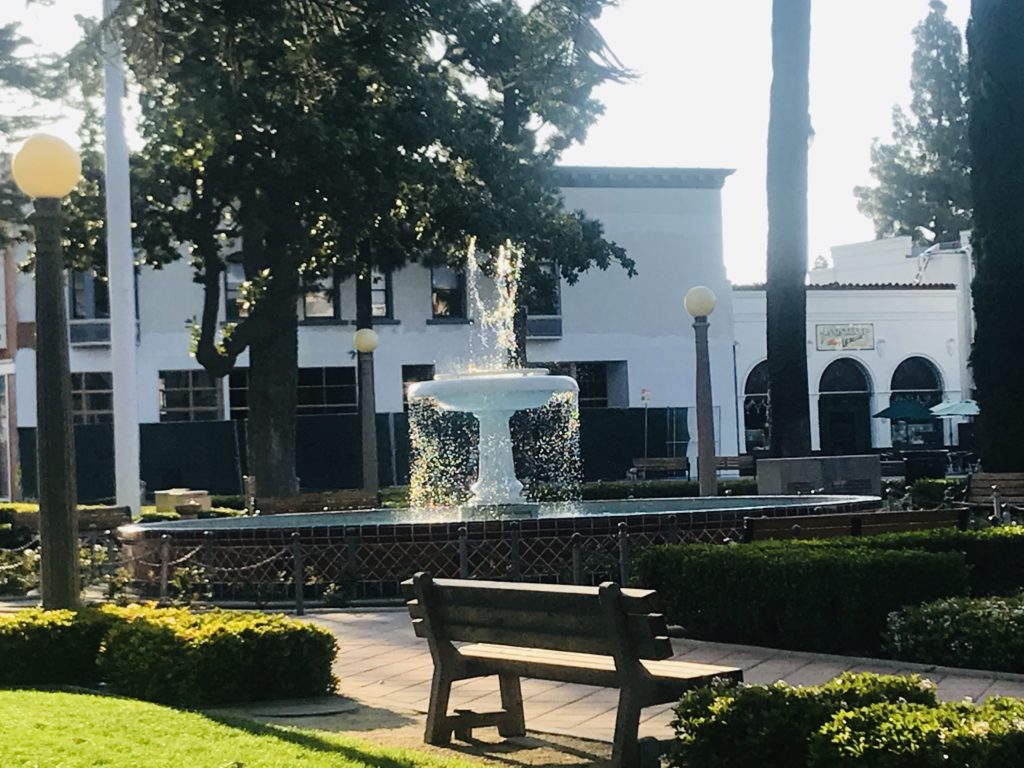 We're selling mugs! Support I Heart Old Towne Orange and get your favorite today at https://shop.iheartoldtowneorange.com/.
The Circle?

The Plaza?

Old Towne Orange Mugs!
The second stop on our tour is Country Roads Antiques & Gardens. This is just one of the many antique stores the Orange Plaza is known for. This one-hundred-year-old building is a place where you can wander around for hours just looking around. What I love most about this antique mall is that there are so many different vendors in one area which gives each space a unique personality all its own. There are so many options to choose from and at the same time you are helping out our local businesses. Whether you're looking for some collectibles, some vintage fashion, or just something unique you can't find anywhere else, this is a great place to spend some time.
Tiddlywinks is another must-shop for residents and visitors. This family-owned toy store has that small town feel that I love. It's one of those shops where adults and kids alike can have fun together. From classic toys like Jacks and Silly Putty to silly finger puppets, Tiddlywinks has a great variety (I personally buy most of my kid gifts here because they have such unique options). And, when you have a hankering for an Abba-Zaba, they can hook you up!
Of course, we have to show our visitors Watson's Soda Fountain Cafe. Watson's has a great sense of familiarity. Perhaps it's because this building, built in 1899, has been in many films. Notably, the Tom Hanks movie That Thing You Do and The Bench Warmers used Watson's as one of their sets. On the flip side though, Watson's was renovated a couple of years ago, so it's completely unrecognizable from those movies – but it's still super cool inside! In addition to being a great backdrop for movies, Watson's has a wide range on the menu, including delicious appetizers like mafia meatballs and fried pickle chips, an assortment of phosphates (that's sodas to the millennials), and insane milkshakes, one with an entire slice of cake inside.
Get on those bikes or take a nice walk into Old Towne Orange for a splendid Saturday afternoon.
If you're not already on our weekly newsletter, take a second and sign up. We connect with your inbox every Thursday with some great tidbits about what's happening in this fantastic community.