5.. 4.. 3.. 2.. 1..
Happy (almost) New Year, Old Towne Orange! As the clock winds down and we begin to wrap up the 2016 memories, it's the perfect moment to sit back and reflect everything the last year has taught us. Even if you didn't accomplish all of last years ambitions, don't worry! 2017 signifies a clean slate and many new beginnings. Start planning by gaining inspiration from many of our informative blogs this past year. Whether you'd like to reach your fitness goals, or want to start eating healthier, you can begin your journey in Old Towne Orange!
As we patiently wait for the clock to strike midnight so we can start tackling our new year's resolutions, let's toast 2016 in style! If you're looking to stay local this weekend, we have some entertaining options that you may be interested in considering. Whether you'd like to enjoy an intimate dinner, a big blowout, or are in need of New Year's party supplies, we've got you covered! Read on to make your New Year's plans before the ball drops this weekend!
Calling all party people! The District Lounge is going to truly sparkle and shine this NYE. They will be hosting a Masquerade Ball, while party favors and masks will be distributed at the door. If you've ever been to The District Lounge you know it fills up fast, so table reservations are highly recommended. If you and your crew really want to go out with a bang, bottle service is available! The DJ will be spinning all night long, and there will even be a complimentary champagne toast at midnight!
If you're looking for something a little more low key, Haven Gastropub invites you to mix and mingle with OTO neighbors. Enjoy some of your favorite Haven menu options and take part in their midnight champagne toast. Gabbi's Mexican Kitchen will also be celebrating and offering some (to be determined) specialty menu items. They still have a tasty seasonal menu filled with festive foods and beverages, so everyone will have a fun time celebrating.
If you already have evening plans this Saturday, then welcome 2017 with a fabulous New Year's brunch on Sunday. Citrus City Grille is serving up your favorite brunch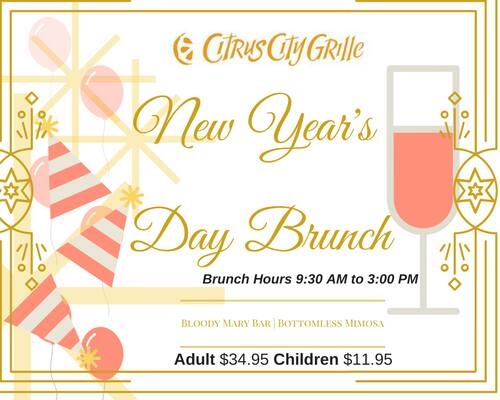 selections complete with a Bloody Mary bar and bottomless mimosas. Of course, we can't forget to also mention our other favorite Old Towne Orange brunch spots: The Filling Station, Watson's Soda Fountain Cafe, and Cafe Lucca. They will all be open New Year's Day for your convenience.
If you'll be hosting, toasting and ringing in the new year at your house this weekend, stop by OTO for your New Year's party essentials! Impress your guests with specialty beer, wine, and champagne from  Provisions Market. They have an extensive collection of refreshments suited for everyone's needs! For a quick and convenient stop, park in the drive thru  and head into Rod's Liquor. They also have a large selection of beer, wine, champagne, and liquor!  
Cheers! May your 2017 be everything you wish for and more!