Hello everyone and welcome back to the blog…. and Happy October! This month is all about pumpkins, jack-o-lanterns and sweet treats. If you have not already read it, check out our  Orange-inspired Halloween costume ideas. If you want to see ALL 37 COSTUME IDEAS, fill out this form subscribing to my weekly newsletter and you'll go right to them:
For the blog this week, I scoured Old Towne Orange for all of the pumpkin treats I could find. From pumpkin bagels to pumpkin pie, OTO is full of the flavor we can't get enough of this month: pumpkin spice! Keep reading to see where you can find these amazing snacks and also to see how you can access our exclusive vegan menu!
Pie Hole – I love Pie Hole! Did you know Pie Hole's only location in Orange County is right here in OTO? We feel so lucky to have them right in our backyard. And – great news – when I popped into Pie Hole this week, they told me their delicious pumpkin pie will be coming back on Oct 8th so make sure to visit them in a few days for your favorite fall pumpkin dessert!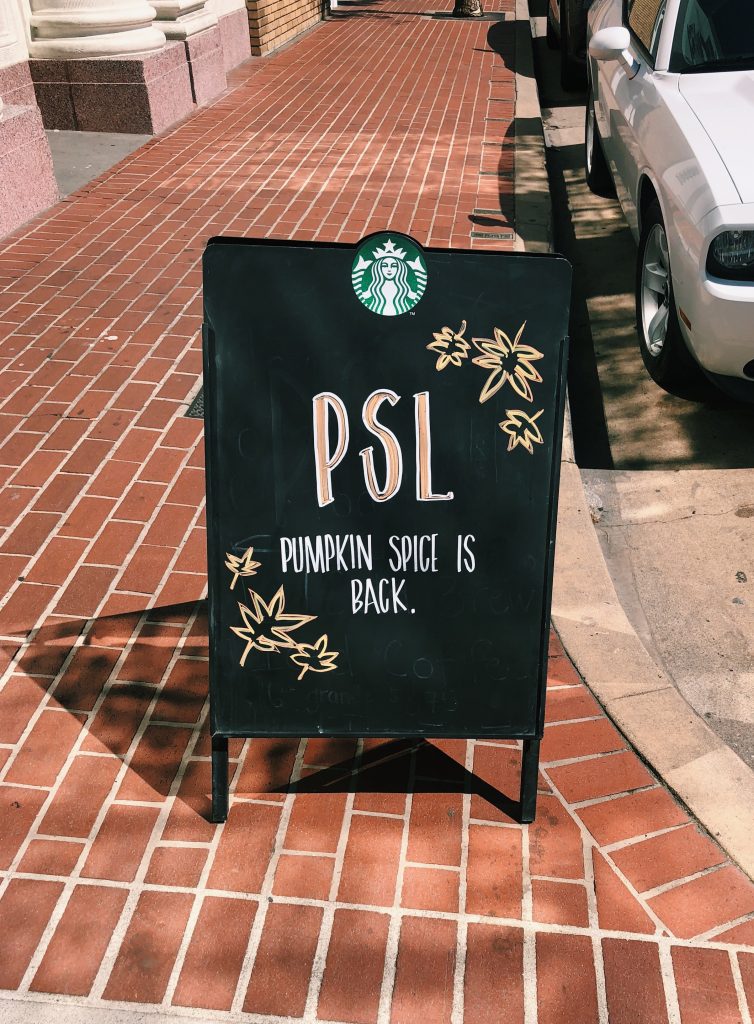 Starbucks – It's back! It's back! Our beloved PSL. Need I say more?
Blue Frog – I stopped by Blue Flog this week and got some great news: as we get closer to Halloween, they'll be offering pumpkin pastries and baked goods as well! Be on the look out for pumpkin treats at Blue Frog soon!
Kimmies – Everyone! Pumpkin! Pancakes! are at Kimmies! I haven't tried these yet… but boy am I excited to. The picture alone as making my mouth water, so I can't wait to give them a try. If you've tried the pumpkin pancakes from Kimmies, what do you think? Worth the hype?
Bagel Me! – Bagel Me! of course is offering a seasonal pumpkin bagel which would pair nicely with any of the spreads they have: including plain, veggie, strawberry, jalapeno onion, jalapeno cheddar, lite chive, walnut raisin, sun-dried tomato, lox spread, and of course… pumpkin (which is also a seasonal spread!).
Pandor – Pandor, like Blue Frog, told me they'll be getting more pumpkin flavored baked goods as we get closer to the end of the month! Common guys, we're craving it now!
Haute Sweets Baking Co – I love visiting Haute Sweets when it gets to this time of year. Lindsey always makes me the most beautiful holiday cookies, truffles, and candy apples. She told me to stop by on Tuesday, and I was not disappointed with these adorable and spooky candy apples. Okay, you caught me. These aren't pumpkin flavored. But I HAD to include them in the blog – they're just too cute not to. Thanks Haute Sweets!
This week, be sure to take a stroll around OTO and check out all of the pumpkin-licious treats there are to taste! And while you're at it – check out some of the amazing vegan food OTO has to offer by accessing our exclusive vegan menu here! Or just fill out the form below and go right to the menu download page.
Old Towne is filled with incredible plant-based options that you need to try this fall.
And of course, make sure to tag is in your fall pictures on Instagram, Facebook, and Twitter so we can see what you're up to! Have a great weekend everyone and we'll see you around towne.