A morning spent walking through our perfect neighborhood is always a good morning. To make it a great morning, spend it by supporting local vendors and small businesses! A good thyme awaits you at the Orange Home Grown Farmers & Artisans Market every Saturday. If you've never been, consider this your helpful guide for your next Saturday excursion!
Kale-ing All Vegheads!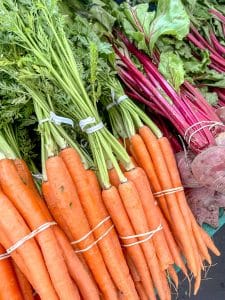 Well, maybe not just vegheads, because as a meat-eater, I was fully enthralled by the beauty of the neatly stacked produce. If you're the type of person who loves to cook with the color of the rainbow, a trip to the Farmers Market will be what you need to upgrade your Saturday night dinner. There is an overwhelming amount of options to choose from. You'll have your pick of the crop—literally! The best part about it? With each purchase, you are directly supporting a local business. 
Let it Grain on Your Parade
If bread is a beloved staple in your household, you won't want to miss out on the artisan bread from OC Baking Company. If you plan on picking up a loaf, make sure to get to the market early! The line for it snakes through practically the entire main street. With that many people waiting to get their fix, you know it must be good. French toast, garlic bread, a fancy sandwich—your weekend eating plans will only get better with this homemade bread. 
Much More Than the Garden Variety
In need of some fresh blooms to liven up your space? The Farmers Market has you covered. Whether you're dressing up your dining table for guests or just want something pretty to look at while you work from home, there is no doubt you'll find the perfect flowers for your space at Maldonado Growers. The selection available is vast, colorful, unique, and perfect for any occasion that you may need it for. If you're more of a plant mom, there are options for you, too. There is an incredible variety of tillandsia, succulents, and veggie plants to make your Orange home greener. 
Eclectic Eats For Every Palate 
The Farmers Market is much more than veggies, flowers, and baked goods. You can take home some incredible food to break up your weekend takeout cycle. Let your search for promising dishes start at Cali Dumpling Delivery. They offer homemade wonton soup dumplings and potstickers with pork, fish, and vegetarian filling options. Other cuisines you'll find around the market include curry, gumbo, tamales, and gelato. Yum! 
Whatever your plans for your weekend are, take time to head down to 303 W. Palm Ave. You might just find your new favorite food, plant, or gift vendor to support. Either way, it will feel good knowing that you're spending your money locally. Happy shopping!
Haul your market goods in style with our adorable reusable totes. But don't wait, there are only a few left!
If you're interested in becoming a vendor, please reach out to Orange Home Grown.