What's the best way to treat your main squeeze to a low-key and romantic Valentine's Day? By supporting your favorite Old Towne Orange small businesses, of course! Inspiration for a date to remember is just about everywhere you look in our beloved towne. Here are a few ideas for a full day of love.
Let Love Brew in the Morning
Start your day off right by surprising your better half-and-half (Ha! Get it?) with some fresh coffee from any of our towne's amazing coffee shops. The right cup of brew exists for just about any coffee drinker— if you know where to look! For keto partakers, you can find the perfect coffee for your diet from Portola Coffee Roasters. For lovers of strong, Turkish coffee, there's Byblos Cafe! For tea drinkers, Urth Caffé has a wide selection of tea lattes that will hit the spot on the morning of a day filled with love. And for those who prefer something a little sweeter, there's something for you too. Try a delicious milk tea from Oiio Cafe! Whatever your valentine likes to wake up with, you are sure to find it in OTO.
Find the Perfectly Unique Gift
Make this Valentine's Day more memorable with a special gift that your S.O. can't find anywhere else. Browse the many antique shops in OTO for that one unique item that reminds you of them. So many vintage Disney collectibles await their next home, and would be perfect for your partner if they've been missing the Happiest Place on Earth a little extra this year. Some other gift ideas include beautiful dishes that remind them of their childhood, jewelry with an interesting history, or paintings that tell a fascinating story of a previous life. A great place to start would be Woody's Antiques, then you can make your way around the plaza to hit the other shops, like Golden Bear Antiques, Antique Depot, and Country Roads Antiques. There are plenty of opportunities for you to find a meaningful Valentine's Day surprise, and it all lies within our beautiful neighborhood. If your valentine is more into fresh blooms, check out The Dizzy Daisy! Right now, they are accepting pre-orders for Valentine's Day arrangements and bouquets. Place an order today to get the best selection!
If you want something that's especially Old Towne Orangey, check out our merch! There's plenty of time to order these few items we have in stock, or pick up locally.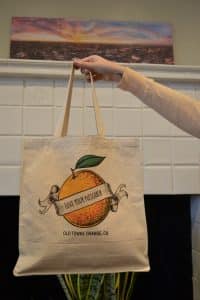 Have Your Own Private Beer or Wine Tasting
In these unprecedented times, bars and restaurants are getting crafty. The Wall is one of them! You can order any one of their craft cans to go! There are so many craft beers to choose from—you might as well order a few and perform your own tasting with your partner. It's a great way to support a local business and to find new beers to enjoy. You can also buy wine by the bottle from restaurants like Smoqued California BBQ and Haven Craft Kitchen + Bar. There is no shortage of incredible beers and wines in OTO!
Have a Romantic Candlelit Takeout Dinner
Forget about cooking on Valentine's Day. Take a load off and order in or dine outdoors at one of OTO's finest restaurants. If you're feeling Italian, Francoli Gourmet and Renata's Cafe Italiano both offer takeout and outdoor dining for your safety and convenience! If you're looking for delectable Mexican favorites, you can go to Gabbi's Mexican Kitchen, Avila's El Ranchito, or Don Jefe Jalapenos Grill (just to name a few). For quick and casual bites, there's Zito's Pizza and The Taco Stand. In this ultimate food haven we're proud to call home, there's something for everyone.
End the Night With the Perfect Dessert
Something sweet for your sweetie is available just about wherever you go in OTO. For ice cream lovers, take them to Afters Ice Cream. If your valentine is more into artisanal pastries, then Pandor Artisan Bakery and Cafè is the place for them. For amazing specialty soda drinks that take you back, go to Watson's Soda Fountain & Cafe! 
There are so many ways to support the small businesses of Old Towne Orange on a day that would otherwise be so busy and great for business. Happy Valentine's Day! And as always, we'll see you around towne.