We tend to feature a few of Old Towne's best vegan treats (and trust me there are more on the way), but we can't neglect our fellow meat lovers! Let's face it, OTO knows how to serve up some to-die-for meats, and it would be a shame not to showcase them. Welcome to our Meat Lover's Guide to Old Towne Orange. After you've read this post and you think we missed something, make sure to let us know!
Smoqued California BBQ
Well, you didn't expect us to start an OTO meat lover's guide with any other eatery other than Smoqued BBQ right? We love everything, and I mean EVERYTHING from Smoqued. We even interviewed their chef Marc Mendoza for some grilling tips, because we have dreams of barbequing meats as scrumptious as theirs. We highly recommend their combination plates so you get to try more than just one thing. Our personal fave is a 1/2 chicken and ribs combo plate! But don't worry, you can combine any of their smoked meats into a combination plate! Smoqued California BBQ is located at 128 N Glassell St, Orange, CA 92866.
The Taco Stand
What could possibly make a tray of fresh-from-the-fryer fries, with cheese, sour cream, and guac any better? Perfectly seasoned carne asada. The Taco Stand is still pretty new to OTO, so if you haven't checked them out already, DO IT! We reviewed some of their food on the blog a few months ago, but wanted to give their yummy carne asada fries a shoutout for everyone looking for a meat-filled snack! The Taco Stand is located at 240 W Chapman Ave, Orange, CA 92866.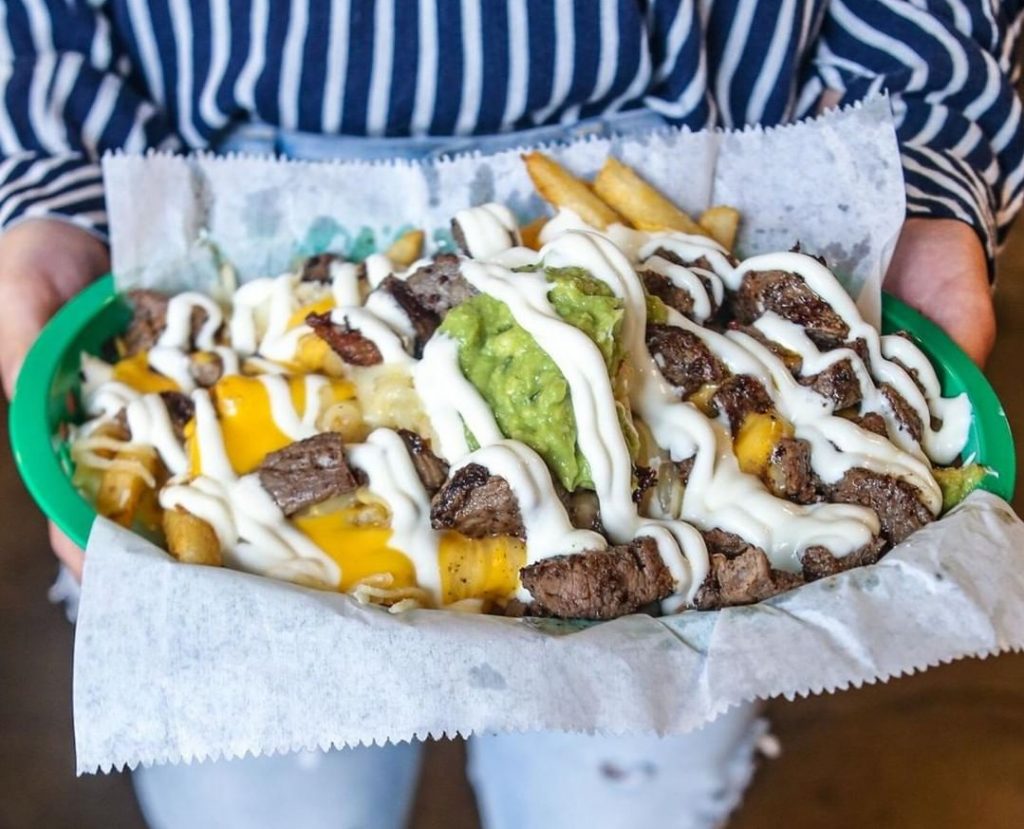 Haven Craft Kitchen + Bar
While Haven Craft Kitchen + Bar serves unique meats (we're talking veal, duck, and chicken liver!). We wanted to feature one of our fave brunch items. Haven's Steak & Eggs is an elevated take on a classic American breakfast. Meat lovers will geek out over the quality of Haven's flat iron steak, along with the beautiful pairing of chimichurri and black garlic mustard. This brunch item screams luxury and indulgence and it is a total treat for all who order it. You can catch this dish on their Sunday Brunch menu which is served from opening to 2:30 pm on Sundays. Haven Craft Kitchen + Bar is located at 190 S. Glassell St. Orange, CA 92866.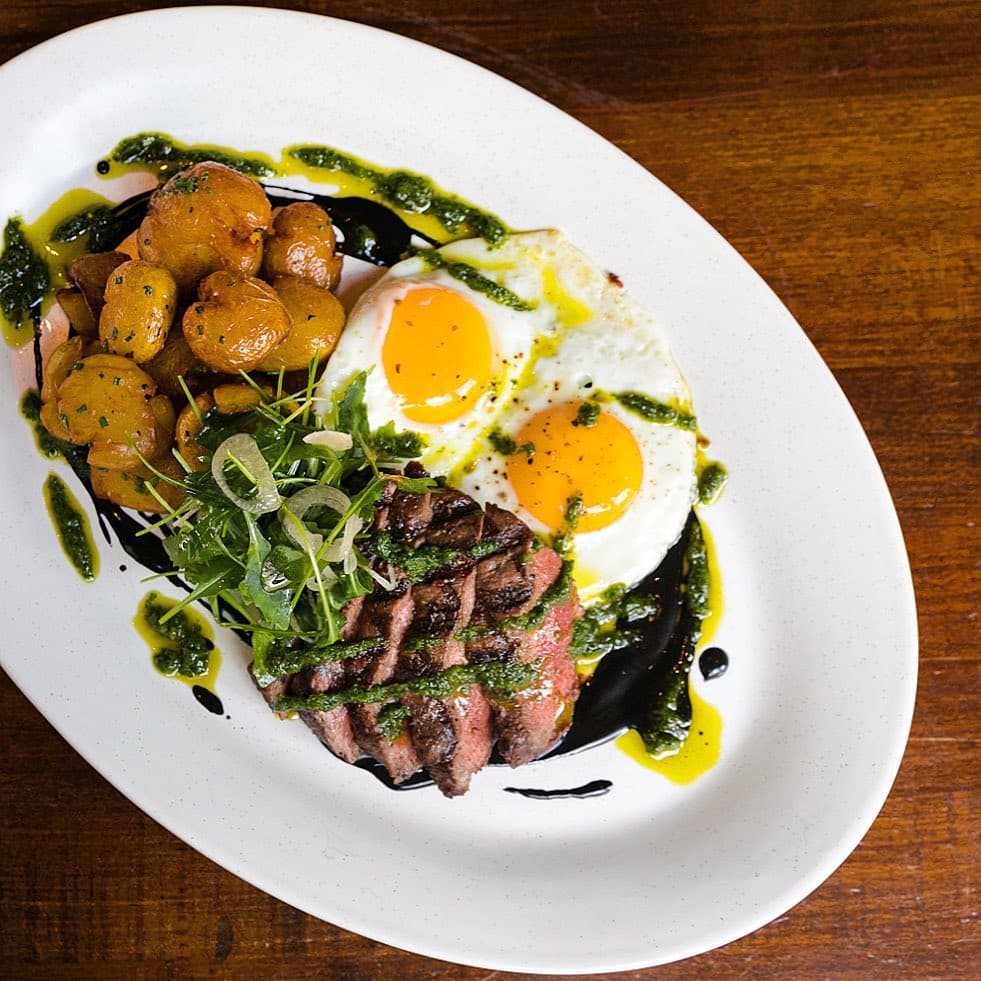 Kimmie's Coffee Cup
If you're looking for a little more classic breakfast, head next door to Kimmie's Coffee Cup. There are so many breakfast and lunch items that are homecooked and feel a little like the breakfasts you grew up with as a kid. Meat lovers might enjoy their corned beef hash, polish sausage and eggs, or chicken fried steak! Their breakfast menu is quite extensive, so you're sure to find something for everyone (including your not-so-meat-loving friends!). Kimmie's is only open until 2 pm every day so make sure you catch them for your next breakfast or brunch run! Kimmie's Coffee Cup is located at 190 S. Glassell St B Orange, CA 92866.
https://www.instagram.com/p/BtyItWgjZEg/
Burger Parlor
Since the Burger Parlor lets you customize your burgers, there are so many different options for meat lovers (and plant lovers alike!). But in our opinion, the Frito Chili Cheese Burger is THEE burger you need to indulge in. Layered in cheese sauce, chili cheese Fritos, jalapenos, and their housemade chili, this burger is rich and yes has meat with even more meat on top! The savory chili on this burger is why we had to include it on this meat lover's guide! Burger Parlor is located at 149 N Glassell St, Orange, CA 92866.
Zito's Pizza
Tucked away in a little alley in the middle of The Plaza/The Circle is Zito's Pizza. This restaurant serves up New York-style pizzas, and pastas, calzones,  and sandwiches. With some seating inside, it has a great outside patio that's finished with string lights (perfect for a casual date night!). While the atmosphere is nice, the food is even better (not related to this meat lover's guide, but you'll regret not ordering a basket of garlic knots and Mango Cart beer). The Meat Lover's Pizza features homemade pizza sauce, ham, bacon, Italian sausage, pepperoni, and mozzarella cheese. Any meat craving you had will be cured by this pizza! Zito's Pizza is located at 156 N Glassell St, Orange, CA 92866.
Buttermilk Fried Chicken
Finally non-red meat in this meat lover's guide! Buttermilk Fried Chicken is another new-ish restaurant in OTO. The menu is really simple. There are chicken sandwiches and fun apps but the star of this eatery is their delish fried chicken. We're not sure how they do it but the breading is really crispy while the meat is still incredibly moist! We are so thankful there is finally some southern-style fried chicken in Old Towne. Buttermilk Fried Chicken is located at 238 W Chapman Ave #100, Orange, CA 92866.
That's it for our Meat Lover's Guide to Old Towne Orange. Again, let us know if we missed any of your fave dishes or restaurants! Reach out to us on Facebook or Instagram to let us know if you tried any of these dishes and fell in love with them! Thanks for reading and stay tuned for more Food + Drink blog posts coming later this month!