It's time to celebrate all things persimmon.
The 25th annual Pitcher Park Persimmon Party is finally here! Check out this local community event from 12-3 pm this Sunday, Nov. 17. Pitcher Park is located on the corner of Almond and Cambridge.
If you haven't previously attended this annual fete at Pitcher Park, here's what you can expect. You'll discover loads of persimmon baked goods (baked by local persimmon lovers!) and fresh-picked persimmons, all proceeds benefiting the Orange High School FFA Scholarships and Pitcher Park. You'll bump into your neighbors and friends from around towne, because everybody who's anybody will be there. You'll be entertained with live music by the Wemberley's (they're on from Noon to 1:30 pm) and other local musicians. The Orange Vintage Fire Museum will be open as well. This is a free event (with the exception of any baked goods you purchase), so bring the whole family to the park and have a blast!
Here are some fun persimmon pics to get you pumped for this weekend's party, courtesy of Patricia Barrios.
If you would like to become a volunteer baker call 714-532-5930. Volunteer bakers are given persimmon pulp and creative freedom to create any persimmon baked goods under the sun. All baked goods must be ready by Saturday, Nov. 16 to ensure they are tagged and priced correctly.
Persimmon Cookie Recipe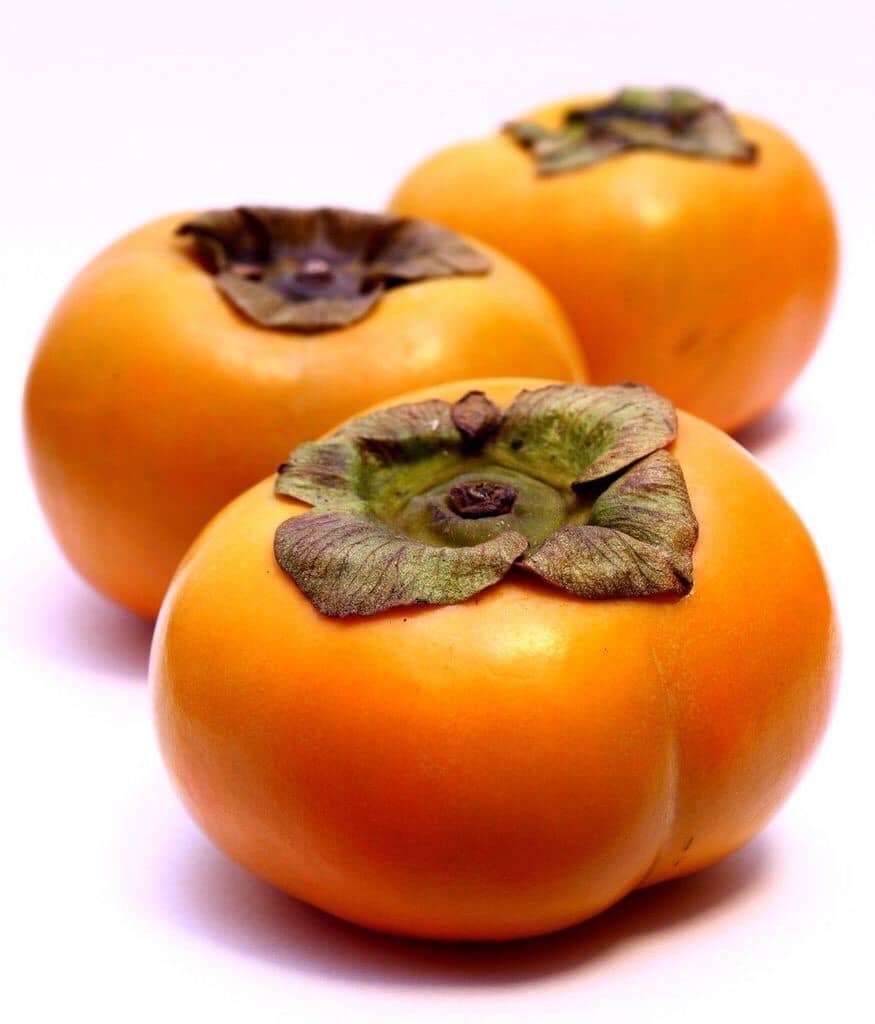 If you are in need of some persimmon inspiration, we've got you! Whether you're a volunteer baker or want to buy a few persimmons at the Persimmon Party, this cookie recipe is light and absolutely delish! This soft persimmon cookie is topped with a fresh orange glaze that is the biggest kicker to this recipe. This recipe was inspired by Two Peas And Their Pod.
Ingredients
For the cookies:
 

1

 

cup

 

persimmon pulp

(about 2-3 persimmons)

2

 

cups

 

all-purpose flour

 

1

 

teaspoon

 

baking soda

 

1/2

 

teaspoon

 

salt

 

1

 

teaspoon

 

cinnamon

 

1/2

 

teaspoon

 

cloves

 

1/2

 

teaspoon

 

nutmeg

 

1/2

 

cup

 

unsalted butter

 

at room temperature

 

1

 

cup

 

granulated sugar

 

1

 

large egg

 

1

 

teaspoon

 

vanilla extract
For the orange glaze:
 

2

 

cups

 

confectioners' sugar

 

1/4

 

cup

 

fresh orange juice

 

1

 

teaspoon

 

orange zest
Directions:
Preheat oven to 350 degrees. Line two baking sheets with parchment paper and set aside.

In a medium bowl, whisk together the flour, baking soda, salt, and spices. Set aside.

In a large mixing bowl, cream the butter with the sugar. Beat in persimmon pulp, egg, and vanilla. Slowly add in the flour mixture until everything is combined. Fold in the walnuts, if using, and raisins.

Shape about a spoon sized amount of batter into small balls and place onto prepared baking sheets. Bake for approximately 13-15 minutes or until cookies are brown around the edges and set. Let cool on baking sheets for five minutes and then remove to a wire rack to cool completely.

To make the orange glaze, in a medium bowl, combine the confectioners' sugar, orange juice, and zest together. Whisk until smooth. Dip the cookie tops into the glaze and twirl the cookie. Set cookies back on a cooling rack for glaze to harden.
Bon Appetit and see you Sunday!